Corrosion Prevention
Endorsed by Leading Automobile Manufatures
Car Care
WAXOYL PROFESSIONAL 100 PLUS PAINT SEALANT
The Ultimate protection from sun, wind and weather damage.
Just one application protects your paint job for over 100 car washes.
The high polymer formula, shines to a brilliant, deep, wet looking finish that enhances the clear coat to shield your paint with a tough, glass-like protective seal
Maximum protection against color fading and nasty paint damaging elements such as UV rays, acid rain, rust stains, tree sap, industrial fallout, and bird droppings, tahnks to its EPPS™ (Elastometric Polymer Protection System) formula.
Shines to a brilliant, deep, wet-looking finish while enhancing the clear coat.
WAXOYL PROFESSIONAL MOTOR CARE
Restores and protects metal, plastic and rubber parts in engine compartment.
Resists high temperatures in the engine compartment without loss of effect.
Protects electrical connections against oxidation.
Contains no silicone.
Does not yellow with age.
WAXOYL PROFESSIONAL U.P.T. UPHOLSTERY GUARD
Fiber by fiber upholstery guard.
Provides long-term fiber by fiber protection that repels water and stains from damaging upholstery.
Protects against wear and tear increasing upholstery life-span by creating a tough barrier that reduces friction between fibers.
Effective on all types of upholstery including leather.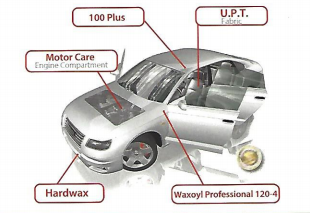 Corrosion Protection
WHAT MAKES WAXOYL DIFFERENT?
Other rustproofing products simply hide the rust. They dry, crack and eventually flake off exposing severe rust problems. Waxoyl's advanced chemistry makes a live, flexible undercoating that kills existing surface rust, never dries, sticks forever. Requires minimal surface preparation for a lifetime protection.
HARDWAX FOR UNDERBODY
A tough long lasting wax based compound that contains powerful corrosion fighting chemicals and forms a flexible barrier to keep elements out. Protects for the life of the vehicle.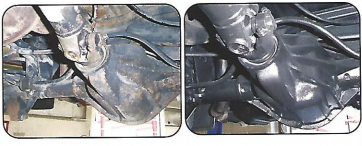 120-4 CAVITY PROTECTION
Because many corrosion problems begin inside untreated cavities, Waxoyl Professional 120-4 fogs & penetrates the narrowest spaces ensuring maximum protection. Utilizes existing drains to avoid drilling.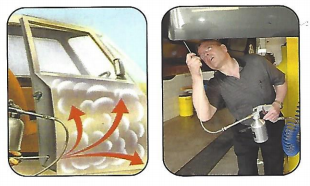 THE WAXOYL BRAND stands for more than 50 years of experience in the fight against corrosion and weather damage. Trusted by specialists the world over, Waxoyl Professional makes customized solutions to retain value and the 'like new' qualities of all types of transportation, machinery and structures.